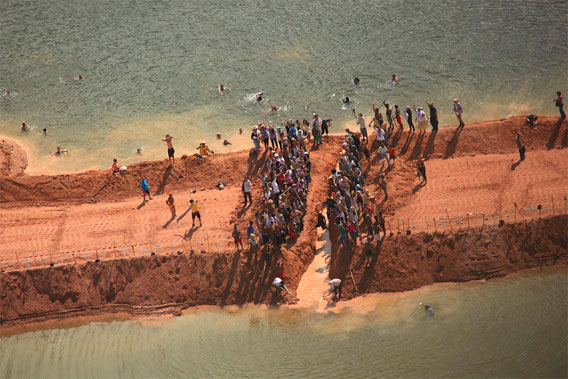 The decision apparently came after multiple meetings with high level Brazilian government officials who pressured the judge to let the project continue.
Brazil is spending $93 billion on 20 hydropower plants that threaten 2500 square miles of Amazon rainforest and the lives of thousands of people who live there.
Indigenous people have been physicallly blocking construction of the Belo Monte dam. 
Another huge dam project on the Teles Pires River is also being contested for many of the same reasons.
If all the dams are built, thousands of people will be evicted from their ancestral lands and transmission lines will cross the Amazon, carrying the energy to cities.
The reservoirs will submerge trees and underbrush with water, and as they decompose, they produce methane, with emissions 25 times as potent as carbon dioxide. The reservoirs formed by damming the rivers will be stagnant, mosquito-infested water.
It goes without saying that these dams will destroy large sections of the most biologically diverse rainforest on Earth, which the world has been working to protect for decades.
More:
http://www.sustainablebusiness.com/index.cfm/go/news.display/id/24025
In August 2010, Hollywood director James Cameron made a short documentary comparing the construction of the Belo Monte dam to the struggles of the fictional planet Pandora in his film Avatar.  He called the video "Message from Pandora".  But the A list has been no match whatsoever for Belo.
Belo has some serious muscle behind it. Like the movie, instead of a major Earthbound mining corporation, it has a Brazilian multinational mining corporation and the entire legal authority of the Brazilian federal government behind it, digging up virgin rainforest in the only part of the country left to build clean hydroelectric power plants.
That clean energy comes with a price, as in immediate environmental destruction in order to build the power station in the first place.  The energy is cleaner than fossil fuels, and it powers nearly all of Brazil's electricity, but building it comes with a price to land and rivers.
More:
http://www.forbes.com/sites/kenrapoza/2012/09/05/no-end-to-brazils-pandora-dam-drama/
A fisherman and his family approaches the Belo Monte hydroelectric dam construction site, during a protest against its construction and its impact on their livelihoods, along the Xingu River near Altamira in Para State, September 22, 2012. Some 50 fishermen, who claim that the construction of a temporary levee to change the river's course is ruining their fishing grounds, are protesting by navigating their boats daily near the work area, causing the construction company to halt operations. The fishermen are demanding a meeting with representatives of Norte Energia, the operator of Belo Monte, which is planned to be the world's third largest hydroelectric dam.
http://www.trust.org/alertnet/multimedia/pictures/detail.dot?mediaInode=7ea49d7b-620d-440a-a0b0-7b57d75fef8e